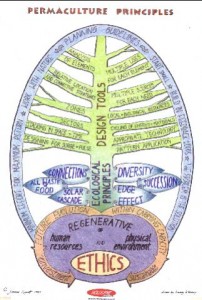 I first heard the word "permaculture" in 1990 in Santa Fe, New Mexico, during my junior year in college. The co-originator of the concept, Bill Mollison, was coming to Santa Fe to be a part of an Earth Day festivity, and there were flyers around town with compelling line drawings that caught my attention. The word "permaculture" is a contraction of permanent and agriculture, coined in Permaculture One, written in 1978 with fellow Australian David Holmgren. 
I didn't get to meet Bill, but I did attend a memorable talk by Scott Pittman, a long-time friend of Bill's. I had recently read Mansanobu Fukuoka's One Straw Revolution, and after the talk I asked Scott about a very provocative statement that Fukuoka-san made: "there is no rain in the desert because there are no plants." Obviously we normally think of it the other way, that there's no plants in the desert because of the lack of rain. In response Scott explained how Pseudomona syringe bacteria live on shrubs and trees and waft up into the atmosphere and become the 'seeds' that rain drops form around. Interesting, a scientific explanation for Fukuoka-san's spiritual insight. That was enough of a hook for me, after graduation I spent ten years developing a permaculture teaching and design practice. 
Though I have spent the most recent ten years developing a slightly different line of work, permaculture is still near and dear to my heart, and we will be drawing out the process in the months to come as we develop our property. 
When I was actively teaching classes I collected definitions of permaculture to share with students, here are a few I particularly like:
Permaculture: the use of ecology as the basis for designing integrated systems of food production, housing, appropriate technology, and community development. Permaculture is built upon an ethic of caring for the earth and interacting with the environment in mutually beneficial ways. 
                                                                                   ~from Sustainable Living in Drylands
Permaculture is a philosophy of working with, rather than against nature; of protracted and thoughtful observation, rather protracted and thoughtless labor; and of looking at plants and animals in all their functions, rather than treating any area as a single-product system. 
We'll post more in time, the diversity of definitions is delightful!