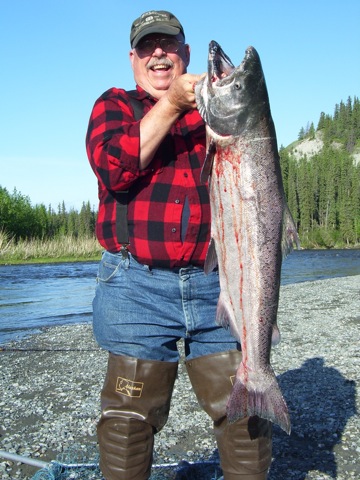 Today I would like to introduce my father, the Happy Handyman, who will be contributing posts over the next several weeks. He's married to the Joyful Retiree, who also happens to be my mother, and they are both retired and staying with us here at Greening Gumview. For more on their current life check out my mom's blog, she's addicted and a great writer. She opened up the possibilities of round steak for me, I guarantee you won't be disappointed. 
My dad is a lifelong handyman, and very skilled. Before we bought this place we would refer to him as our "secret weapon," as we were counting on his skill and time to help us purchase a fixer upper that most people would run away from, and hence get it for cheaper. That strategy seems to be have worked, as we got an excellent price on this place, and the Happy Handyman arrived with a year's worth of pent up handyman energy and tore into projects with relentless zeal. We also sometimes refer to him as the big blue ox (Babe), or as the one who putters and stuff magically gets done. He is also sometimes known as the peanut gallery, a one man band of opinions!  😉
He's helped us with a load of projects, and many times he just takes the initiative and gets things done. Genevieve and I both have full time work so we can't always be doing as much as we would like, but my dad can keep plugging away with indomitable spirit. 
One thing he did, and this might seem like a small thing but it isn't, was he changed out all of the electrical plugs and plates and most of the switches as well. When we got this place almost every electrical plug had a different face plate on it. Electrical face plates are really cheap, I don't know why someone would have almost every one be different. In the master bedroom there were even metal faceplates, and our inspector got a good shock when he was testing it for current and the metal faceplate slipped off, boy, that was fun! Anyway, my dad went through and changed them all to a more modern style we had selected. Nothing fancy, but it's amazing the difference it makes in the house. Small details like that add up, you'd be surprised how the little things make a difference.
OK, that's enough introduction, I'll let him do the talking from here on out. Oh yes, as you might have guessed, he loves to fish.