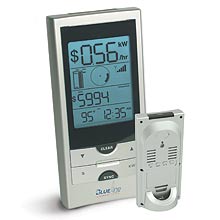 Today I found something I have been searching for for months: a tool to help monitor minute-to-minute energy use, from inside the house. Yes! The tool is known as the PowerCost Monitor and can be found here and here. Apparently easy to install, a detection unit goes on your utility meter which transmits a wireless signal to the display unit inside your house. It measures the kWh electricity usage at that moment, and a cumulative total of usage since the last time you cleared the display. Once you enter your cost per kilowatt hour, it will also display what your electricity is costing you in that moment. 
Why is this so interesting? 
You know the old saw: "you can't manage what you don't measure." As someone who has looked at the utility meter, walked inside, turned on an appliance and walked back outside to read the difference, this device is a major time saver. I imagine there will be multiple "aha!" moments when you turn on the dryer or see how much the stereo really uses when it's cranked up.
Being able to easily track moment-to-moment energy use is compelling, and transformative; any Prius owner will tell you how the car's mpg dashboard changed their driving behavior. This technology will similarly influence behavior, something we urgently need. Yesterday Geoff Syphers of Sonoma Mountain Village quoted something Mary Nichols of California's Air Quality Board said: 50% of the greenhouse gas emission reductions can be accomplished with technology and money. But the other half requires behavior change. Energy consumers must change their habits to reduce GHG emissions to meet California's goals. This inexpensive technology can directly help make this change.
I'm also interested in this device as part of what I call the Home Command Center. I imagine an array of devices to help manage the home and your life in it: a weather station (inside and outside temperature, barometric pressure, wind speed, etc), the intelligent thermostat, a means of circulating air through a whole house air filter without heating or cooling, the controls for the whole house fan, etc. More on this to come in a future post. 
I have a Kill-a-Watt meter, which is similarly useful, but it doesn't help detect many phantom loads, such as what the built in microwave with its helpful clock is using. And it is not convenient to pull out the fridge and get down to ground level to read the plugged in Kill-a-Watt. 
When we lived at Golden Nectar Farm, just down the road here in Windsor, we had a grid intertie photovoltaic system, with time-of-use net metering. Lots of big words there, what that meant is that during May to October, on Monday through Friday, between the hours of 11 and 6 (I think) electricity was very expensive. That was good, as it meant that our we were getting paid top dollar to crank carbon neutral electrons into the grid, helping my relatives in Southern California keep their A/C on. Our off-hours electricity was much less expensive. Naturally we did little during the day, no clothes washing, no raging stereo, no water pumping. At night we could indulge with impunity (not that we did, we're very responsible folks!). The PowerCost Monitor could go a long way to maximize the the energy and cash return for owners of grid-intertie photovoltaic systems. 
OK, that's an enthusiastic review for something I haven't actually tried yet! More after I've used it.