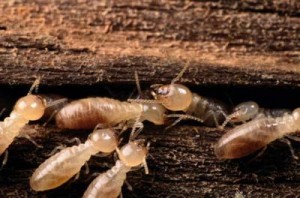 To Fumigate or Not to Fumigate? That is the question these days, as we sit here in escrow, letting ourselves imagine that we own this property even though we don't yet have the keys. (We are really hoping there is some cool ceremony when we do finally get those keys.)
The Problem? Dry Wood termites, Subterranean termites, and beetles. We are told this is pretty standard in many houses of this age – ours was built in 1973, with an addition in the 80s. We want to have alternatives to the typical toxic gas fumigation that is usually used for termite control. Also, Subterranean termites need their own special topical application – more about that later.
Part of the problem is that some set of the previous owners were very good intentioned, but maybe not the most knowledgeable builder/designers – they built the brick patio right up to the house, and above the foundation, so that water drips down to the house – particularly in our very rainy winters. They also didn't know to clean out the gutters, leading to water sheeting on the walls where it shouldn't have. Finally, the dryer vent was disconnected under the house for who knows how long, thus creating the PERFECT climate for little buggies.
I guess there are several alternatives to fumigation; while we loved Martin from the Bugbusters who did our inspections, we are committed to finding alternative, non-toxic solutions.
Alternatives to Fumigation: Click here for a great article by from UC Davis detailing the pros and cons of each treatment.
And another article detailing the full gamut of alternatives.
Since we have been advised to get whole house fumigation, the option that I immediately looked at was the following:
1. Thermal Pest Control (Whole House Heat Treatment) Click here for a GREAT ARTICLE specifically from SF Gate on whole house heating – the good, the bad, and the ugly.
Benefits to Whole House Heating:
– Non-toxic
– 1 day to being back in the house
– Has other benefits, such as "reducing three suspected triggers of allergies and asthma by denaturing allergens such as dust mite feces and killing molds and insects such as German cockroaches that help spread these irritants throughout a home."
– It can also oxidize odors, such as smoking, although this is not something we have in the house.
Cons –
-may not get termites that are close to concrete or tiling; these act as heat sinks and keep the interior of the wood from reaching above 130 degrees, which is what is necessary for the termite to be killed.
– not certain of effect on vinyl windows, plastic piping, drywall, brick veneers, and other possibly heat-sensitive elements
– can be a full on catostrophe if natural gas is loose in the house.
Costs:
Typical firms offer a two-year guarantee, similar to that offered by fumigation firms, and that cost of a whole-house termite treatment is generally comparable to pesticide fumigation, in the range of $2,000-$3,000 for a typical 1,200- to 1,500-square-foot home.
Apparently, according to the Structural Pest Control Board, the Whole House Heat Treatment is the only alternative to fumigation that will affect the whole house. Anything else, including electro gun, freezing, microwaving are all spot treatments and will not entirely eradicate the termite.
A great FAQ by a Whole House Heating Company.
The main problems I see are possible damage to the house, (although I have a feeling that probability is pretty low; the UC made mention of damage to the roof if someone walks on it, which I don't understand – is that during the process? Afterwards?) and whether or not the heat sink from the concrete foundation touching the perimeter of the house, where much of the damage is, would render the whole treatment ineffective.
Many people recommended finding someone who does both if possible, so you can get an honest, unbiased assessment of which is the best way to go.
2. Orange Oil Termite Treatment
We also have subterranean termites, which live in the soil and move back and forth from the ground. Apparently, Termidor is a recommended toxic product for killing subterranean termites. I had heard of Orange Oil Termite Treatment, and was hoping it would be applicable to the soil treatment, as it is low toxic, and even smells like citrus! We really don't want our soil contaminated – who knows, really, what the costs are to the health of our plants, ourselves, and the little seasonal creeka few yards away!
I found this article saying that orange oil is appropriate for locallized applications to treat dry wood termites, not subterranean termites. Bummer.
So, now I am trying to figure out the difference between termite baiting and liquid application. More on that later.