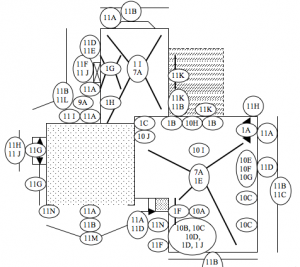 Inspections were completed on Friday and we received the reports on Monday and Tuesday. Three slightly overlapping inspections were done: an FHA appraisal, a comprehensive home inspection, and a bug and pest inspection. The FHA appraiser we never met, we only saw their report. The bug and pest inspection was done by Martin Rodriquez from Bug Busters, and the home inspection by Art Palmer of Art Palmer, Inc. Both guys we immediately liked and trusted, they both have that solid confidence that comes from being in the building trades for 25+ years.
The FHA appraisal was good, they valued the house $25,000 more than we are paying for it. I thought, based on their numbers, that it ought to be valued higher, but it's better that the appraiser keeps the number low because the bank will see this report and we don't want them getting any funny ideas. For the FHA appraisal and inspection, the primary factor is that there are no "FHA issues," broken glass, peeling paint, non-functional appliances, anything that would keep the house from being move-in ready. Our mortgage broker was very happy about the FHA report, so that makes us happy.
The home inspection reports came in pretty much the way we were hoping, we hit the sweet spot: no deal breakers but enough problems that we can return to the bank (the property is a REO owned by IndyMac, stock price $0.062 at this writing) and wring some more money out of them. Structurally the house is in good shape. (Martin said the framing was "great.") The biggest problem is on the southwest corner of the house, a former owner added a brick patio that is flush with the siding of the house and covers a couple crawl space vents. Not only is this patio wavy and lumpy (and it had a strange depression in the center of it the first time I toured the house, but this was repaired on subsequent visits) it is slightly inclined towards the house so water has been draining into the siding and causing dry rot. Smart. It will be a fun few hours with a sledge hammer demolishing this tribute to amateur building projects.
The gutters have not been maintained well so there are several spots where water has been penetrating the eaves and the roof sheathing. There are also several places where water has entered or stayed for a bit in the crawl space. The dryer vent was disconnected from the wall vent, so it was shooting lint and warm moist air under a section of the rumpus room.
As you can imagine, all of these moist conditions have also created the conditions for termites. Yes, termites. We have both, subterranean and dry wood. The infestation is not, at this point, severe. If we waited for a year or two the house wouldn't fall down, but we need to do it fairly soon. The bigger issue is that we need to remove the causes, the stupid brick patio, the open dryer vent, any rotted wood or moist anything under the house, the roof and gutter issues. But the bid we have is to tent the entire house and treat it with a fumigant. We are not excited about doing that. Toxic stuff, Genevieve's been exploring options in her post "To Fumigate or Not To Fumigate?"
The comprehensive home inspection was done by Art Palmer, a guy we immediately trusted and liked. He obviously knows what he is doing. No major issues, really. The roof needs to be done within the next couple years. It currently has three layers of composition shingles on it, so there's a project there, to remove all of those. Art speculated that there's probably a couple tons more weight on the roof than it was originally designed for and that by removing them the house will breathe a big sigh of relief. I speculated that we might even end up with cathedral ceilings in a few places, wouldn't that be nice! Because of the aging of the roof, the aging of the gutters, and a few places where repairs were done substandard, there is water damage in a few places. But nothing catastrophic or urgent.
Gx and I had a long meeting last night figuring out our schedules for the next couple months, and trying to figure out what projects we take on prior to moving in, how we stage the moving process, etc. Of course the whole process is complicated by the fact that we work, and often our work takes us away from home for days at a time. As it turns out, we really only have two free weekends in September prior to the close! And the same is basically true for October. I have to be gone at a conference in Canada (woe is me) from the 22nd to the 29th of October, so that cramps our moving schedule a bit, and limits the work that we can do prior to moving in. We had considered blowing out a wall and joining two small rooms into one larger one, but I don't see how that can be done in the time available.
There are several big projects we want to do before moving in. The dark green carpet must go. We need to remove the wallpaper in the master bedroom, and repaint everything. We need to remove a wood stove in the "living room" and remove the brick platform it was sitting on (yes, these people really loved brick). The walls there will need to be tidied up somewhat, and then we need to put down flooring on all of the areas where we removed the carpet. It is probably 1000 sqft that needs new flooring, with 5 rooms and many corners, it will not be a small project. We are not yet decided about what flooring to use, we are thinking something like cork or bamboo, I love the warmth and easy feel of cork, but we also need something that we can pull up without destroying it too much when we do future remodeling work. We're not sure what all of that will cost. Lots of thinking and planning to do, and lots of work following that.
The two projects that need to happen first thing are setting up a place for my parents to park their 5th wheel, and setting up the garage as a good work space. Luckily, the sewer line and clean out is on the west side of the house, near to where I was thinking would be a good place to park them. The electrical box is also on that side, so creating a power, water and sewage port box for them at their parking-camping spot won't be unduly difficult. We'll see what they think of it when they get here. The spot is next to the seasonal stream, with eucalyptus overhead, I think they'll like it. And we need to get the garage designed and outfitted so we can store all of the extra boxes of books we have and have a functional work space for all of the many projects we will do over the next several years. 
Next step: renegotiating with the bank. That'll be fun!